March 11-18, 2017
Yoga Retreat
Casa Isabel, Yelapa, Mexico
Charles MacInerney will be leading this Yoga Retreat at Casa Isabel, in the small fishing village of Yelapa, on the pacific coast of Mexico 45 minutes South of Puerto Vallarta (Book your flight to Puerto Vallarta where you will meet up with Charles before embarking on a water taxi to the fishing village of Yelapa.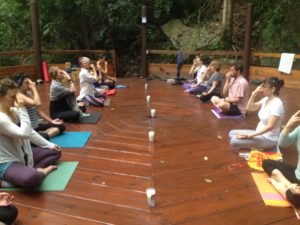 Casa Isabel is one of Charles' favorite places to stay in the village. It is located on the point, which is a quiet part of the village dominated by the sounds of the ocean. However, it is only a 5 minute walk along the coast to the main village, stores, restaurants, and beaches.
Isabel passed away several years ago, but the property is managed by Beverly, who has spent the past 4 years renovating the property.
Yoga Retreats in Yelapa, Mexico
Cost: $1850
Yelapa Alumni from Charles' previous retreats can take an additional $100 discount. Fee includes room, meals, all classes & workshops.
$500 non-refundable deposit to secure your place. If paying by credit card, please use Buy Now Button below, filling in the amount you are paying ($500 or balance owed).