Yoga Workshops with Charles MacInerney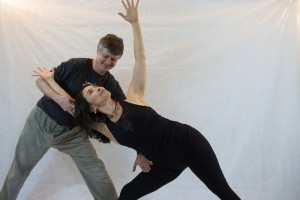 Charles regularly offers workshops at conferences and for yoga studios in Texas and through out the USA and abroad. He teaches on a wide range of topics including: Breathing, Posture, Concentration, Balance, Stress Management, Peak Performance, and Visualization.
Charles is a gifted generalist, accomplished story teller and public speaker. His workshops are highly experiential, and life changing. He has been developing and refining these topics over the last 20 years.
If you or your studio are interested in hosting Charles for workshops please contact him for details at charles@yogateacher.com.
Testimonials
The mindset that the retreat promoted and created stayed with me during subsequent weeks, making me more open to others and myself... ~ Carol Mackay, Professor of English at the University of Texas, Austin

I met Charles MacInerney at the 1999 Southwest Yoga Conference in Austin. I enjoyed his comments during the panel discussion and especially appreciated the opportunity to attend his Free Yoga class after the conference. He handled the overflow crowd at his studio quite smoothly and led a great program. I just returned from his December Raja Yoga Retreat at the Margaret Austin Center and have to tell you that it ranks among the best retreats that I have attended. He has a wonderful way of setting people at ease and creating an environment where participants feel safe expressing and exploring new ideas. I was able to find a deeper understanding of my own spirituality during his retreat, and am still enjoying the "high" almost a week afterwards. I found that he presented concepts in very simple terms and brought them to life with great examples from all walks of life, including his own! I have highly recommended his programs and web site to others, and look forward to connecting with him again in the future. ~ Sue Gantz, Corporate Trainer, Yoga Teacher

Even with no experience, I felt completely at ease in the same room with others who had been involved in yoga for years. I left the weekend with confidence, energy, and a new group of friends! ~ Ruth Kline, Austin, Texas

Charles, I am sending a belated note to thank you for the great time I had at the retreat. I also wish to say that when you showed us how to do alternate nostril breathing, it changed my daily headaches. Every time one hits, no matter (well, not completely) how bad it feels, a few minutes of alternate nostril breathing will give me hours of relief... All the work you put into the planning, hiring, instructing, guidance and leadership was appreciated. I had such a great time that I am hungry for more knowledge and more techniques in yoga and meditation and breathing.... I would recommend your retreats for anyone. ~ Susan K.

My husband and I had very little experience with yoga when we decided to sign up for this retreat with Charles. I came back from it wanting every person I knew to attend as it changed me in a way I can't describe. I thought I was going to learn a little more about yoga in a peaceful nature setting and I ended up learning and thinking about so much more. From mindful eating, to concentration, to living with focus and purpose, this retreat covered so much and inspired me in so many ways. And for a shy introvert the environment was so warm, inviting and comfortable. This retreat was good for every level and I truly look forward to attending another one.  ~ Kristy Estrello (and Brandon Pittman)

Charles always speaks from his heart. And his heart is so wise, so sweet... and so funny! Charles, the place, the other participants, the ideas, the emotions, the insights, the food, the fun -- everything about the retreat was extraordinary. It has been weeks since I attended Charles MacInerney's yoga and meditation retreat, but I still feel deeply affected by it. When was the last time you were so profoundly affected by something that it changed your life? What a profound experience. Thank you, Charles. ~ Terry Masters Owner/Director of Master School
This is a text block. Click the edit button to change this text..